There's a Warden at work who i thinks looks a little like Jared Leto. Obvs not exact so dont get too excited, but he deffo reminds me of him, think its the hair and eyes perhaps?
Anyways i mentioned this to him...
Side Note: I do just drop in these observations and comments randomly, asking people if they're werewolves or vampires or goblins, but whatever.
....then i saw him a while later and he was all;
"You know who your remind me of?"
"Who?"
"This famous woman"
Zoe Saldana? Jada Pinkett Smith?
"Whoopi Goldgurg"
"Huh. Just give me a moment while i decide whether or not to take this as an insult."
"No, no its a compliment. Its your smile, it lights up your whole face and she's the only person i can think of that a smile has that effect with"
"Huh, well okay then, thank you i guess"
Then we went off to get the Harry Potter key. Don't ask.
So yeah, i love the Goldburg but she obviously wouldnt be the first person i would compare myself looking like. Perhaps its the hair? Cause to be honest mine is looking like a hot mess at the moment...
Anyway that's it. I don't really see it me self so i was gonna ask you guys.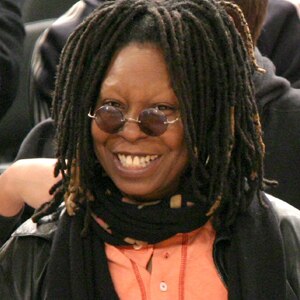 Oui ou Non?